UPDATE March 2021:
Your donations have made a big difference in the lives of people who were struggling to pay their rent and utility bills.
We were able to help over a hundred people, some of whom were living in desperate conditions.
One young adult was actually living with their water turned off because of past due bills, and we were able to get their water turned back on.
Others were in danger of having their power disconnected and/or facing having evictions being filed and ruining their rental history.
We were able to step in and take the stress off of them so they did not have to worry about it over the Christmas holidays.
All of them are extremely grateful for your help.
Here are just a few testimonials of the difference you made in people's lives:
"This support means so much from you all because I've never received help like this ever. The application was simple and fast, you all responded immediately and really saved my family this Christmas.
This makes a difference for my family and I because we don't have to go into the New Years worrying about past rent, especially during this time of COVID-19.
My 3 year old daughter just recently had open heart surgery and it impacted me from working. Then recently my car went out also a resort of me losing my job. So this ministry has been such a help for my family and I and I truly appreciate you all from the bottom of my heart."
Special thanks,
E.C.
"Thanks to UPlift Your Life I was able to receive financial assistance during an extremely difficult time.
Like so many Americans right now, my company closed its doors due to Covid-19. After receiving unemployment for several months, I received a letter stating that my benefits were going to be ending 12 weeks early. This was unexpected and financially I was unprepared to face this new dilemma.
Thankfully, I was able to receive financial assistance through UPlift Your Life and I will be eternally grateful for their assistance. [They were] extremely helpful throughout the process. No one ever expects to be in a situation where they are unable to provide for their families but luckily UPlift Your Life was there for me in my time of need." - M.
"Oh my goodness!!!!!! THANK YOU THANK YOU THANK YOU!!!!!! I am so completely overwhelmed with your patience and help getting through this. What a blessing " - Anonymous recipient
Here are some screenshots of others who were helped: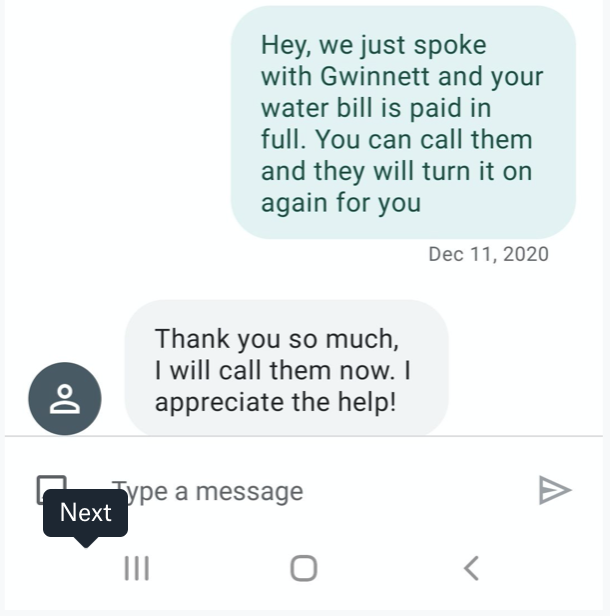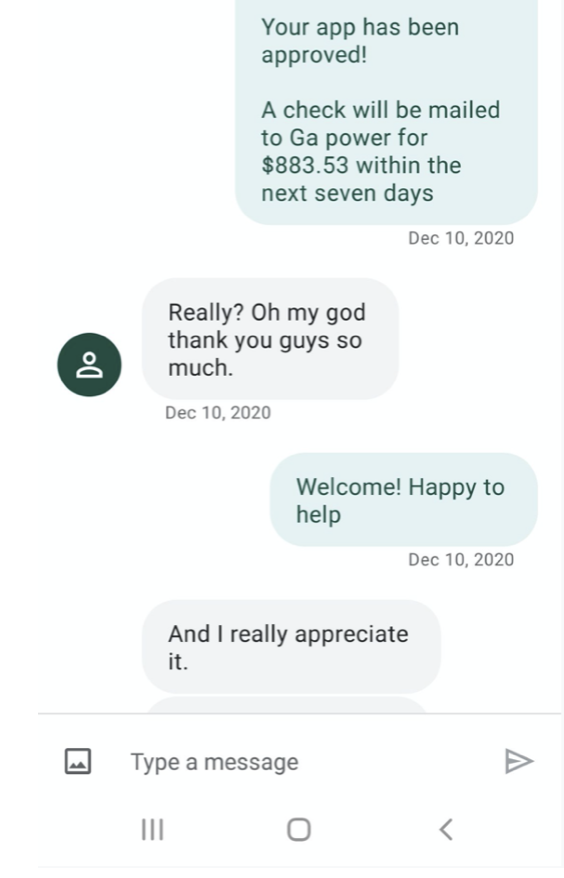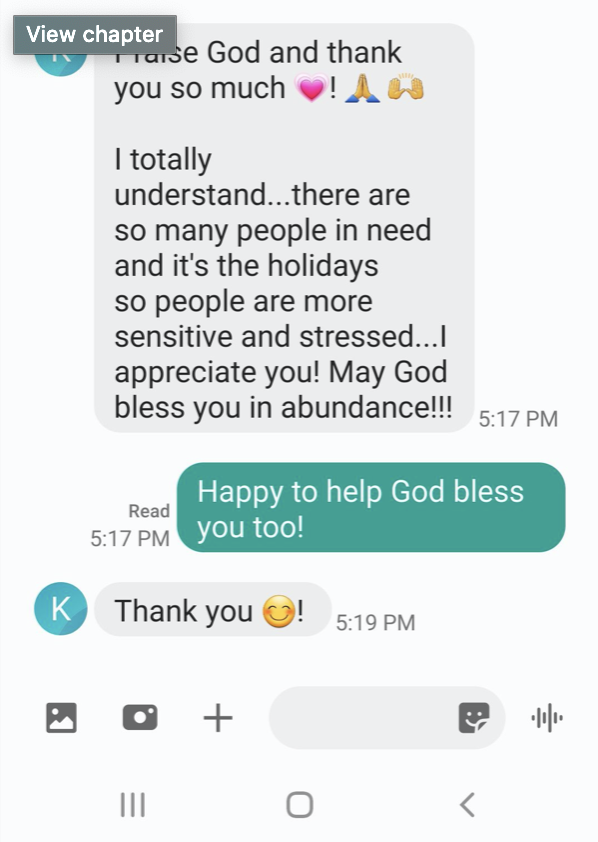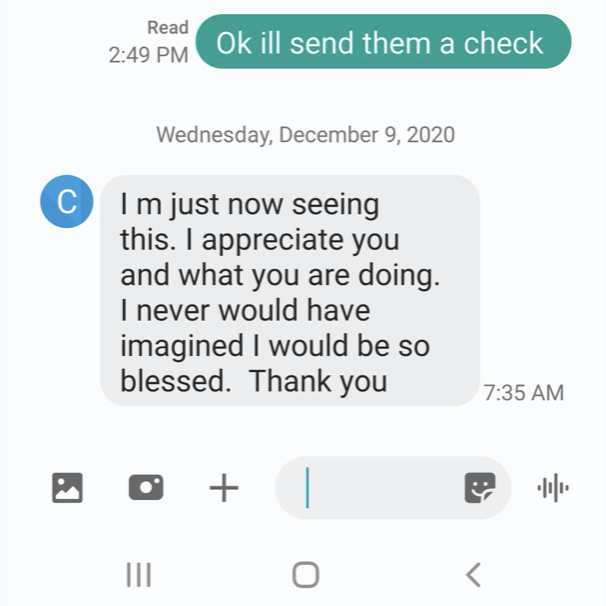 Moving forward into 2021, we are hard at work planning quarterly events to raise awareness and funding to continue helping our communities.
There is still a lot to be done and needs to be met, especially for those in recovery from addiction and mental health challenges.
These have been some of the hardest hit communities because the opioid epidemic has been a full-fledged national emergency in the US, and now that is made even worse by all of the trauma that has come about from Covid pandemic and social isolation.
Overdoses and suicides have spiked, and in their biggest time of need for support services, recent legislation passed actually Decreased funding for services to help this community.
We all know someone who has been affected by mental health and/or substance abuse, and at UPLift Your Life we believe that everyone should have a second chance, and we are working hard to make that happen.
Your donation will enable us to continue helping more people. The Donate Now button above makes it quick and easy.
Best wishes moving forward!
-----------------
Project Prevent Homelessness Description from 11/30/2020:
Help People Avoid Becoming Homeless
Many families can't celebrate this holiday season because they know they are about to become homeless when the federal moratorium that has been protecting them expires.
We are raising money that will be donated to people who have been affected by Covid and are behind and unable to pay their rent and/or utilities.
The federal moratorium postpones evictions but it doesn't prevent them. When the moratorium expires, back rent will be due, and renters will be unable to pay. In the meantime, small landlords who rely on rental income to maintain and operate their properties will increasingly struggle to pay their bills. People who live in extended stay motels are not protected from eviction during this crisis.
At Uplift Your Life we are dedicated to helping at least 500 people to keep their roof over their head. We offer rent and utility assistance to at-risk families, individuals, and seniors with documentable proof of impending housing loss or utility disconnection
We are a 501c3 charity in metro Atlanta, and the majority of people we work with are "vulnerable" members of the community, people who have worked extremely hard to overcome struggles with substance abuse and mental health challenges, and have finally restored their families and their lives, but are now facing becoming homeless because of the pandemic.
You can help us save 500 people from becoming homeless this winter.
The more money we raise, the more people we can help. Your donations are tax deductible.
We will be focusing first on families with vulnerable family members like kids and the elderly.
After that, we will focus on couples.
And after that, we will focus on individuals.
We will be posting updates of progress as time goes on and people get caught up on their rent and utilities.
What better gift to give this holiday season than a little peace of mind to families who are struggling…